Warning signs that you need storage space
Do you ever have a feeling that you have too much stuff? Or you are worried that soon you won't be able to walk through your house from all the clutter? It is very common to feel this way,  especially if you don't have much living space. If you like to gather a lot of stuff, here are a few warning signs that you need storage space.  
9 Warning signs that you need storage space
Many people who like to go shopping a lot, or love gathering collectibles, after a period of time, start to feel a bit overwhelmed. If the thought that maybe you own too much stuff often crosses your head, you probably do. It's normal to feel overwhelmed when your living space becomes limited, and you suddenly find yourself cramped within your own possessions. But don't let that discourage you from starting the big purge. Don't allow your possessions to rule over you. Start with the simplest part of the house and work your way up to the most cluttered area. Donate those old pairs of sandals that you never wear anymore or a pile of clothes that you've sorted through.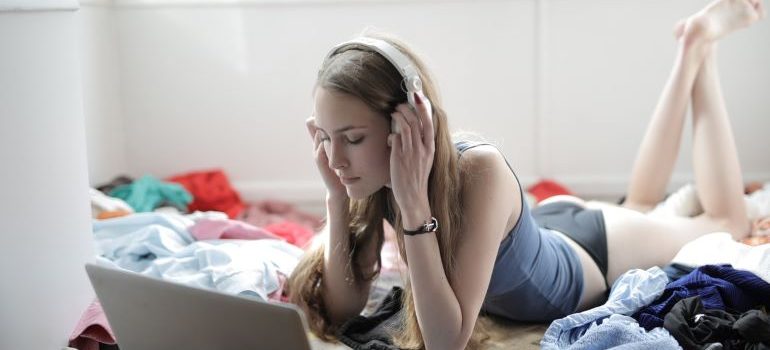 When you put your mind to it, it's not that easy to clear up your home and bring some simplicity to your life. On the other hand, if you believe that your home is becoming too small for you, Hansen Bros. Moving & Storage can help you move to a bigger place or find a new home for your possessions in one of our storage units. Have these 9 warning signs you need storage space or a bigger home in mind before you actually rent out a unit. 
1. You frequently misplace items that you need
If you have clutter lying around all over and your space is too cramped, it's very easy to forget where you put your phone charger or your keys. If your most used items get lost every once in a while, and you spend hours finding them, it's a first warning sign. Make room for your everyday items on your counter or nightstand. So that you don't waste time looking for them every morning while you're heading out to work. You can also attach a ring key to your keys and then attach those to your wallet so that you don't lose them. You can also get those LED keyrings that light up, so it's easier to find them.
2. Your pantry and refrigerator are stocked with expired food
The shelf life of products in the refrigerator is one week. That's when it begins to decompose. To avoid a stinky fridge, make sure you have a purge every once in a while or go shopping for groceries more frequently. A cluttered home is a sure sign of expired food in the refrigerator and pantry. Make sure to check each shelf and throw out anything that has expired. This way, you'll have more space in your pantry for snacks.
3. You want to declutter, but you don't know where to start
It's possible that you have too many possessions if you're willing to declutter but are unsure of where to begin. Decluttering the entire house at once can be a daunting task. The mess can be all over the place. But the attic and the garage are usually the most cluttered. Do not be frightened by the amount of stuff you have to go through. Decluttering just 10-15 minutes a day will help you out a lot. Once you've decided to overcome that hurdle and you're adamant about it, you'll have a clean home in just a couple of days. Start with something small. Like clearing that drawer that has a bunch of rubbish in it that you don't really need.
Nonetheless, if you want to keep a lot of the items, it might be smart to rent out a storage unit. For all the options and pricing details it is always better to have a talk with your preferred storage or moving company representative.
4. You never throw anything out
The most common reason items are kept for an extended period of time is because the owner believes they will come in handy at some point in the future. However, if it's been sitting on your shelf for over a year and you've never used it, chances are you're never really going to use that. Most of the items in the attic will never find their way downstairs, except for maybe winter clothing. Having too many possessions in a household can cause a lot of stress, so a decluttered and more minimal home is preferable.
5. You're constantly shopping for more
If you're a shopaholic, like me, and you're constantly buying new clothes and ordering stuff online, and your closet is breaking, you may have a little problem. How is it that with that many clothes, we still have nothing to wear? I don't understand it either, but having a few staple pieces and switching them around really does work.  Try spending less time on your store apps and only buy stuff when you actually need them. If you want to keep some of your clothing or your children's old toys and games, local Seattle movers can take them to a storage facility where they can be safe and won't clutter your home.
6. There are a lot of drawers that are overflowing
As soon as you notice that your drawers aren't closing anymore, you know that you need to throw something out. Do you really need those old batteries or used hairpins? If you have too many kitchenware and utensils that you'll never use, you should probably donate some of them. You only need a few of these. You don't need that old set of plates you bought years ago and never used once.
8. You keep all of the gifts because you're afraid you might offend somebody
Have you ever kept a gift that isn't exactly "you" just to honor your friend that gave it to you? Here's the catch: Your pal will never know if you keep the gift. You should give it away to someone who may actually do it. It could even be useful to someone else. So consider donating the item and some other stuff you no longer need to a charity organization, like The Salvation Army, for example.
9. You can't park your car in the garage anymore
This is one of the main signs that you need storage space. More than a quarter of American families are unable to park their cars in their garages because of the clutter they accumulate. If you can't park the car in your own garage because of all the junk, this could be a warning sign. To free up more floor space, consider stacking the boxes along the garage's sidewall. A storage container may be an option if you need to free up space without throwing your memories away. Check for a self storage Seattle facility neer you and start a new clutter-free chapter of your life.
Let our team put together a comprehensive moving plan for you. Complete our simple free quote form or contact us at 1-888-300-7222.