Ways to reduce storage rental expenses in WA
Moving is never easy, but moving on a budget tends to be even more difficult and challenging. And when you also need to rent storage space from a moving company Washington on top of your regular moving expenses, money can be pretty tight. That doesn't mean you should give up on your dream relocation and forego moving services you need. Instead, you can try to reduce storage rental expenses in WA by making some smart choices. That way you can save some money and still make use of storage!
What factors determine the cost of renting a storage unit?
In order to know how to reduce the cost of renting storage space, you must first know what exactly you're paying for. When you know what it is that factors into the cost of a storage unit, you'll know what to focus on when trying to reduce storage expenses. Here are some of the main determinants of the price of a storage unit rental:
the size of a storage unit: a common concern and stress-trigger for most people
storage unit location: more centrally located storage units tend to cost more
additional services: if you want movers to handle your belongings, that will cost you extra
extra storage features: temperature control, humidity control, additional security, and extra valuation coverage will all cost you more
the extent of time for renting: if you're renting long-term, you may get better monthly prices but the overall cost will accumulate and get higher the longer you rent
Reduce storage rental expenses by choosing the right unit
The first thing you need to do when renting storage is to decide on the unit you want. This decision will also severely impact the price you pay for storage. So it's crucial that you choose the right unit for your needs if you want to save money.
Most people who opt for self storage Seattle don't know exactly the size of the unit they need. Going bigger is always the safer option because you can find ways to fill extra space but you can't create additional space if you end up having too much stuff for the unit you chose. Renting a universally-sized unit can remove this concern from your mind and let you focus on other factors.
You should also pay attention to the location of the storage unit. Units towards the outskirts of towns tend to be cheaper. If frequent and quick access isn't a priority for you, then you should opt for one of those. It'll save you a lot of money to rent further out from the central areas.
Reduce storage rental expenses by prioritizing
Storage units can come with a variety of additional features that cost extra. Sometimes, these features are necessary. Other times, not so much. While they're all useful, if you don't really need them, foregoing them will save you money.
Are you willing to pay for extra security?
All storage units come with some sort of security. Most are locked and at the very least have alarms and cameras. However, some companies offer additional security in the form of guards, constant monitoring, and regular patrols. If you're storing valuables or live in a high-crime area, additional security may be worth the price. Otherwise, regular security and some decent valuations are plenty enough.
Would you consider sharing?
A somewhat unusual but effective way of saving money on storage is to rent together with someone. If you want to try this, it's best to make a deal with someone you know very well. Remember: this person will have the same access to the unit (and thus your belongings) as you. So it has to be someone you trust. While this may somewhat reduce your security and potentially cause some friction about how to divide the space, you'll also be sharing costs that your wallet will thank you for.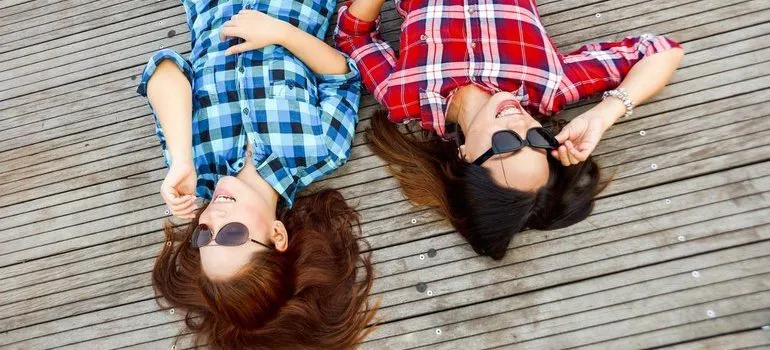 Reduce storage rental expenses by decluttering
How much storage you need depends on how much stuff you have. So another good way of saving money is to reduce the number of things you're storing. You can easily do this by decluttering while preparing for moving and storage. Sell or donate items you no longer use and you won't need to rent as big of a unit!
Reduce storage rental expenses by packing and preparing yourself
Some people choose to rent full-service storage which includes professional packing and transport by the moving company. Unfortunately, this adds quite a bit to your storage expenses. So if you're on a budget, it's best if you prepare for storage yourself. This has the added benefit of allowing you to be in control of the process. You'll be the one deciding what to pack, how to label the boxes, and where to put them in the unit. That can be useful if you're planning on frequent access.
Contact moving and storage companies in the area to compare prices
Finally, it's worth remembering that your storage rental expenses will in large part depend on who you're renting from. Even two identical units might come with a different price tag if they're rented by different moving and storage companies. To find the most cost-effective storage services, get a free estimate from all reputable movers in the area. Then compare the prices and choose the movers that offer the most at the best rate.
Let our team put together a comprehensive moving plan for you. Complete our simple free quote form or contact us at 1-888-300-7222.