What is the fastest way to pack and move
An average person usually needs a couple of days to pack and move. First-time movers should count on even a few extra days just so they can manage to pack everything. If you need to move in a hurry, for whatever reason, you need the fastest way to pack and move. Depending on the situation, you can hire a professionals like Hansen Bros. Moving & Storage or you could try to do it on your own. In an ideal situation, you would be able to plan your move weeks in advance. But if you don't have as much time as required, you can surely pack fast and efficiently.
Plan out your move, if you have enough time
If you are looking for the fastest way to pack and move, it doesn't necessarily mean you need to do it in a day or two. If you have at least a day extra, you better start to plan your relocation. This won't take too much out of your time, but it will save you a lot of time and nerves later on. The best way to plan a move is to make a list of tasks. You will simply be able to cross out the finished ones and also it will be harder to forget something in a haste.
You might need to consider hiring movers if your budget allows you to. The professional moving company has the expertise and experience to pack your entire home fast. If you are on a tight budget and need to do it yourself, stick to your plan to keep the efficiency. Organize transport for a moving day. If you have few belongings or boxes, you can use some of the freight companies Seattle. It can be cheaper than hiring an entire truck for relocation.
Prepare packing supplies before you start packing
Every move starts with packing. This is usually the longest, even the most demanding and tedious task for some people. Prepare all packing supplies before you start, to make packing easier and faster. Make sure that you have enough moving boxes. If you want to pack fast, you don't want to run to buy more supplies in the middle of packing. That is not fast or efficient. When you are in a hurry, you don't want to waste time on buying. Also, prepare small tools like a screwdriver, a hammer, scissors, and pens or markers. You'll need duct tape, old newspapers, old towels or blankets, and empty suitcases. This might seem quite random, but you will put everything to good use. Of course, don't forget that you can always skip the packing part by hiring some local movers Seattle that offer packing services.
Still wondering what is the fastest way to pack and move?
Once you have prepared packing supplies, you can get started. Depending on the time you have for packing, you can divide your home. Start packing room by room. Make sure that you have on hand everything you need for packing so you don't have to run around and look for packing supplies. You will lose valuable time and you will be tired faster.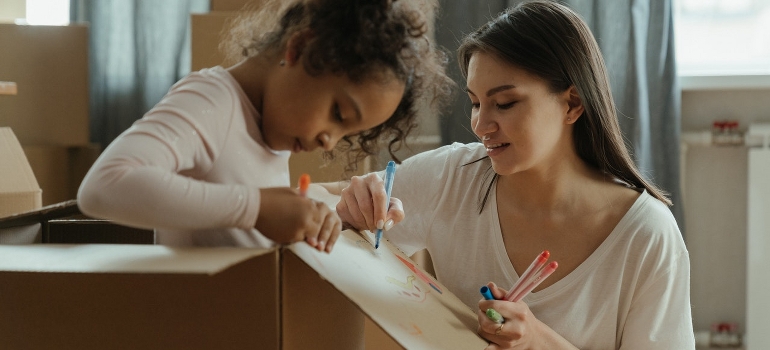 Pack room by room
Start with your bedroom. Here you will spend the majority of your packing time since all the clothes are in the bedroom. Think about efficiency and speed. Do not waste time sorting or trying out clothes. Pack in bulks and once you unpack you will have plenty of time to go through your clothes. A great trick for packing multiple items is to grab a few hangers at once. Use a garbage bag to pack them. Lay them on a bed and then pull a bag over the hangers, keeping them together. This is an excellent way to pack your entire closet with a few simple moves. Don't bother to fold clothes.
Leave the bathroom for the end. You will use it during the packing and you might need some cleaning supplies when you finish packing. Make sure that you pack a carry-on bag, with toiletries, paper, and other essentials. This bag will go with you on your move day. When you are packing the kitchen, you should be careful. This is the only situation where you need to slow down a little and properly pack fragile dishes. It is better to spend a bit more time on packing than to risk damage during transport or handling boxes with glass dishes.
Skip decluttering altogether
The most common advice when you are packing for a move is to declutter first. This is very smart advice. However, it is only applicable when you have enough time. It is recommended to declutter so you can save valuable space in your transport truck. When you are trying to find the fastest way to pack and relocate, you need to skip purge. If you stumble upon anything you are sure that you won't be needing, then you should throw it away or donate. If you aren't sure about some of your belongings, you could rent storage units Lynnwood WA, and save them for later. Sort them out when you move into your new home.
Get as much help as you can
The best way to be fast and efficient is to get help from family and friends. Get as many helping hands as you can. Just be sure that you give them detailed instructions on what to do. Delegate them tasks: who packs what, who will carry boxes to the truck, etc. If you have younger kids, you can include them as well. They could help with labeling boxes or something similar. If they have a job to do, they will be busy and therefore keep out of your way.
The whole process shouldn't take more than a couple of days
This is the fastest way to pack and move. Of course, how long it will take depends on many different things like the number of items you have, whether you have someone who is helping you, and so on. Nevertheless, the whole process shouldn't take more than a few days to complete.
Let our team put together a comprehensive moving plan for you. Complete our simple free quote form or contact us at 1-888-300-7222.