What to do the week before your move
Going through a relocating process can be quite challenging. There are so many tasks that you need to accomplish, which is why most people start preparing several months in advance. But what happens when you only have a week left? What are the most important things to sort out the week before your move? While you can always have your movers and packers Seattle assist you even further, there are some things that you simply need to do on your own. And that is what this article is going to be all about. We will be talking about all of the things you need to sort out in the week prior to your relocation!
7 most important things to do the week before your move
While the list of the most important things might be different for everyone, most people will want to focus on the following:
Settle your finances
Confirm your moving arrangements
Disassemble furniture
Clear out your garage items for the move
Finish most of the packing
Prepare a meal plan
Pack an essentials box
Basically, you will be making sure that there are no "loose ends", as well as preparing the items that you have been using up until now. You will also be dealing with one of the moving companies Seattle has, to ensure that everything proceeds smoothly. If you need additional services, this is the time to hire them. But the first thing that you will want to do is to:
#1: Settle your finances
If you owe money to anyone, be it an individual or an organization, this is the time to pay it back. You don't want any blemishes on your record, after all. If you are transferring utilities, make sure that every single cent is paid out. Try to get it in writing, if possible. To be honest, you can never be sure with the utility companies. It is always best to be sure. Also, confirm cut-off dates twice. 
Then you need to take care of all the banking business. If you are moving banks, you will want to make sure that your bank accounts are transferred and that you close all of the safety deposit boxes that you might have. This is extremely important if you are moving to a new state or a new country.
#2: Confirm your moving arrangements
It is not entirely uncommon for moving arrangements to be postponed or otherwise change. That is why you want to contact the freight companies Seattle that you are working with, ensuring that everything proceeds according to schedule. If your relocation depends on another entity, you need to contact them and see if everything is as it should be. That way, you can create concrete plans and sort out all the other arrangements. And if the changes were to occur, you will be in the best spot to adapt to them.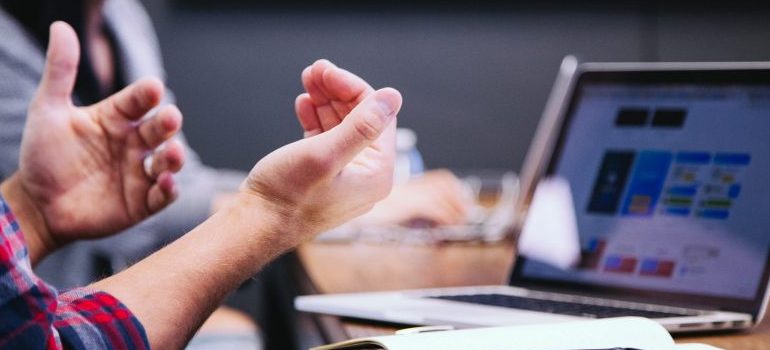 #3: Disassemble furniture in the week before your move
Depending on whether you've hired movers to disassemble your furniture, this step is either "skip" or "really important". If you are responsible for disassembling and wrapping your furniture, this is the time to do it. Do not underestimate the time this process might take. It is best to start doing it early in the week, as you will have a much better idea of how much time is needed once you begin. You can always enlist help from professional movers, yes, but it might not be necessary if you organize well. 
#4: Clear out your garage for the move
While you might have been using your lawnmower and other tools up until now, it is finally time to get them ready for relocation. Drain the fuel from any gear that uses it, as movers are legally forbidden to relocate anything flammable or unsafe to move. If you have any tools that have sharp blades on them, make sure that you cover them appropriately. The last thing you need is an injury on a moving day. You may need to dispose of some of the materials involved, as well. Talk with your movers about the best way to do so safely and within regulations. Some states have strict rules about disposing of dangerous substances and you might get in trouble if you don't follow them. It is always better to be safe than sorry, after all.
#5: Finish most of the packing
You will need to have your items all packed and ready to go by the end of the week. Try not to have too much to pack on the last day, though, as there will be a lot of last-minute moving tasks to accomplish. Ideally, only leave a couple of boxes to be packed at the last moment. While your movers can help you with that, it is cheaper if you do it on your own.
#6: Prepare a meal plan
This one may take a lot of your time or no time whatsoever. What you need to do is figure out where you will eat the night before the move, and each night during the relocation process. If you are preparing meals on your own, only purchase the supplies that are necessary for those meals. Otherwise, you will be throwing food away which is always a waste. If you plan on dining out, you might want to include that in your moving budget and choose the best place. Proper meals are important, especially in a high-stress situation such as relocation.
#7: Pack an essentials box
The last thing on our list of things to do the week before your move, but definitely not the least, is to pack an essentials box for you and the rest of your family. You want to include everything you need for the trip, as well as the first couple of days in your new home. Each family member needs to have a bag or box of their own. Try to imagine that you will need to "survive" a couple of days with only the contents of those boxes. However, try not to overpack either.
Let our team put together a comprehensive moving plan for you. Complete our simple free quote form or contact us at 1-888-300-7222.