Guide for moving from Seattle to Dallas
Moving from one state to another requires thorough preparation and planning. This is an exciting event, but all those changes can also make you feel a bit overwhelmed. The important thing is that you can make your relation easier, no matter its distance, and we, at Hansen Bros. Moving & Storage, are here to tell you how. If you are thinking about moving from Seattle to Dallas this year, this is the guide you'd want to read.
In order to make the transition simpler for you, we've listed some important information about Dallas and the biggest differences between Dallas and Seattle. Read the entire guide and you will also learn how to prepare for your move like a pro. If this sounds like something you want to learn, make sure to keep reading!
Why Dallas?
One of the reasons why some claim interstate relocation is among the hardest relocations is that you're, in most cases, moving far away, to a place you know nothing about. Starting over in a totally different state, away from your loved ones, is exactly why many get a bit overwhelmed during this process. But, it doesn't have to be this way. Doing research about the state where you plan to move to can tell you a lot about your new home. Do your homework and you won't be moving to a place you know nothing about. With this in mind, let's take a look at some facts about Dallas.
If you like big cities, you are going to love Dallas – it is the 9th largest city in the US and 3rd largest in the State of Texas. Dallas was at first an industrial city but it quickly started to develop and grow. Today, Dallas is a city that offers many different job opportunities, beautiful housing, and diverse culture. Dallas has reasonable costs of living and offers high quality of life. It really has great potential and is a great place for starting a new chapter.
Some of the biggest differences between Seattle and Dallas
One of the things that will help you adjust to the new surroundings easier is to compare your old and new city and learn the differences. By doing this, you will know what to expect from your new place. Will it be pricier? Are there going to be any amenities? Are neighborhoods calm? Will there be any storage units like Newcastle storage? Do your research and you will get answers to these and many other questions. But, before you do that, you can take a look at the differences between Seattle and Dallas that we listed below.
Here's what it's going to be like after moving from Seattle to Dallas.
Dallas housing is 70% less expensive than Seattle housing;
Dallas has a younger population than Seattle;
Temperatures are higher in Dallas than in Seattle;
The unemployment rate is lower in Dallas;
Seattle is close to the ocean and that is what many Washington residents love about this city. Although Dallas is not close to the ocean, you will be able to enjoy many beautiful lakes, mountains, and rivers after you relocate there.
Things you should do before moving from Seattle to Dallas
Apart from researching Dallas and the State of Texas, there are other things you will need to do before your relocation. You need to focus on organizing the move and do your best to plan every step of it. The better you organize your relocation, the easier this day is going to be. So, what are the things that you will need to do before moving from Seattle to Dallas?
Declutter your home. Trust us, there is really no need for moving everything you own to another state. Doing this will be pricey and very exhausting. So, plan carefully what you're going to move and get rid of the rest. You can sell some of your items or donate them. In case you have some items stored in your Seattle storage unit, you will need to declutter these things, too.
Find a trustworthy moving company. Moving to another state on your own is not easy. In fact, it can really quickly become a nightmare. So, look for a moving company that can help you.
Start to pack well in advance. There's nothing worse than packing for the move in a hurry. This is what can ruin the entire relocation for you. Start to pack well in advance to avoid problems. If you think you won't be able to pack on your own, get professional packing services
Go on a house hunt. This is another thing you need to do ahead of time, especially if you live in a rental. Get informed about neighborhoods in Dallas and go for the one that meets all your needs.
Things you should do after moving from Seattle to Dallas
Are all of your boxes finally in your new Dallas home? Congrats! The hardest part of your relocation is over. What you need to do now is to try to avoid clutter after moving your belongings. Plan carefully how you are going to unpack and don't try to unpack everything all at once. It is a good idea to unpack room by room. As soon as you unpack one room, you can clean it, and proceed to the other room. Having a plan will make this part of the move much easier.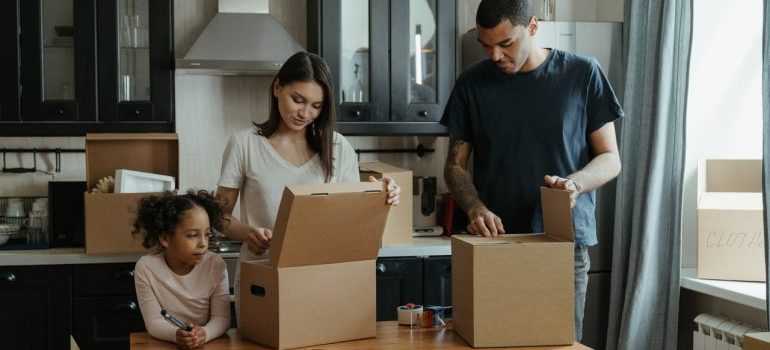 Apart from unpacking, you should also inspect your home to see if you need to take care of some small repairs. It's better to take care of these things while your items are still packed because, this way, they will be protected and there's no chance they'll get damaged during remodeling. 
Once you unpack and decorate your home, get a well-deserved rest. You don't have to meet new people as soon as you move. The same goes for exploring your new neighborhood after moving from Seattle to Dallas. You should do things at your own pace. Take some time, get organized, charge up your batteries, and you will be ready for new adventures in Dallas. 
Let our team put together a comprehensive moving plan for you. Complete our simple free quote form or contact us at 1-888-300-7222.