Common mistakes when storing a flat screen TV
We all love coming home after a long day at work, grabbing a beer or a snack, and sitting down in the living room to watch our favorite TV show or sports game. And there is no better device for viewing our favorite programs than a flat screen TV. Unfortunately, flat screen TVs are pretty sensitive. So whenever you're moving one around, you must do so carefully. This is especially a problem when you're moving and need to either store or transport your TV. For the safety of your TV and other belongings, it's always best to hire Hansen Bros. Moving & Storage and let professionals handle the work. But if you're saving money and renting self-storage, then you'll need to know the common mistakes when storing a flat screen TV and how to avoid them.
Why do you need to worry about common mistakes when storing a flat screen TV?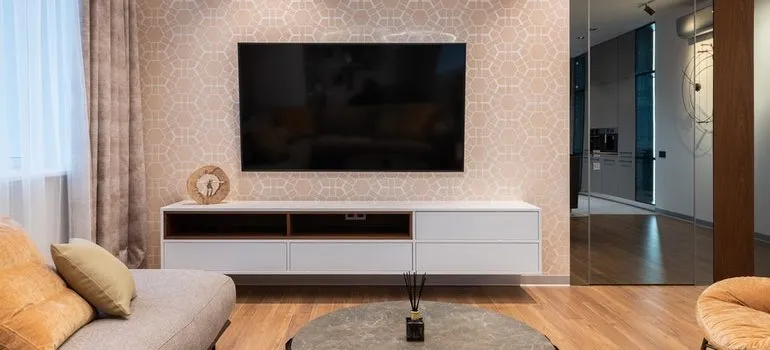 Electronics and appliances are generally pretty sensitive. One pulled wire or bad bump in the wrong place and they're done for. Sometimes, repairs cost more than simply buying a new one. However, flat screen TVs are even more fragile than most. After all, they consist almost entirely of a very fragile and easily damaged screen. Even just handling the TV poorly can damage it. But once you put it in Seattle storage, everything will be fine, right? Well, not quite – dust and debris are always a risk in storage. So it's very important to store your flat-screen TV properly if you plan on using it again.
What are the biggest mistakes when storing a flat screen TV?
You shouldn't let the potential risks prevent you from using Newcastle storage for your flat screen TV. The truth is that most damage occurs due to our own mistakes and improper storing techniques. So if you just know what practices to avoid and how to store your TV the right way, you should have no problems.
Not documenting the hookup before taking it apart
For your TV to work, it needs to be properly hooked up. The electrical lines are the most obvious requirement here. However, you may also connect your flat screen TV to other things like DVD and VHS players, your Playstation, your laptop, a sound system, and more. This often results in a complicated system of cables running in and out of the TV. It's likely that you set this up one thing at a time, simply adding a new cable as necessary. It didn't seem complicated at the time. But when you take that system apart, putting it all back together the exact same way may prove complicated. So don't just yank all the cables out and leave worrying about them for the future – that's just inviting trouble.
Not cleaning the TV before storing it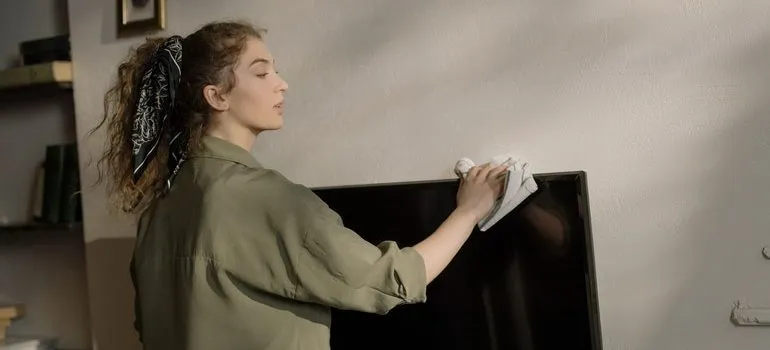 If left unchecked, dust and debris can be just as detrimental to your screens as improper handling. They can cause staining, scratches, and distortions that will ruin the picture even if the screen turns on again. And it's worth remembering that dust is a common issue in storage. So your TV is likely to gather some while in there, especially if you're looking at storage as a long-term solution. Don't make the situation worse by storing your TV without cleaning it first.
Using the wrong packing materials
You're obviously not going to simply put your TV in storage as it is. You need to pack it first. The packing materials you choose are the best protection your TV will have during transportation and storage. So it is very important not to rely on low-quality materials – you need something durable that offers good protection. Simply wrapping your TV in tissue paper or putting it in any old box you can find is not enough.
Moving and storing the TV on its side
There's a reason why your TV is positioned the way it is in your home – that's how it's meant to stand up. This doesn't change just because you're putting your TV in storage. Your TV should still stand upright because leaving it for too long on its side can damage the screen.
Choosing the wrong type of storage unit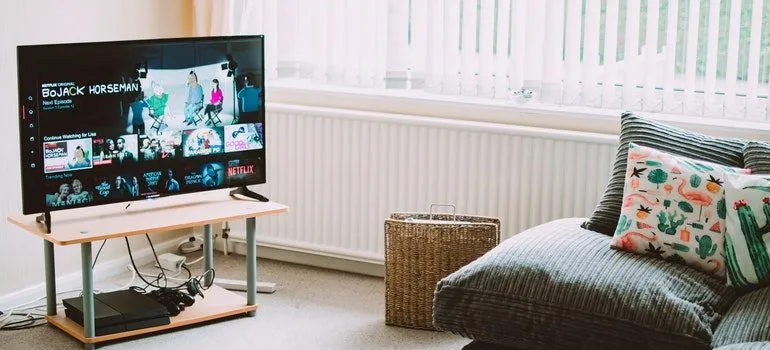 Ideally, you should store your TV in a temperature-controlled unit. Short-term, this isn't going to make much of a difference. But long-term, large fluctuations in temperature can be detrimental to electronics. Units without either temperature or climate control are also more likely to have issues with moisture and mold. Both of these could ruin your TV.
Putting the TV on the ground or under something else
Where you put your TV inside the storage unit can make as much of a difference as the unit you choose. In order to protect your TV from damage, you need to choose a place where it'll be out of the way. Storing your TV on the floor can cause you to unintentionally kick it or trip over it. It'll also put it in greater danger in case of catastrophes like flooding. Finally, with your TV on the floor, you may be tempted to put something on it. This would be yet another mistake. Prolonged pressure on the fragile screen will almost certainly cause dents and even cracks which will render it useless.
How to avoid mistakes when storing a flat screen TV?
Now that you're aware of what not to do, avoiding major mistakes shouldn't be a problem. All you have to do is:
take photos before packing: documenting the set up will make it easier to replicate when you get your TV out of storage and need to reinstall it
dust and protect the TV: clean your TV thoroughly of any dust before packing it; then wrap it with fabric, clean tissue paper, or plastic wrap for protection
find the perfect packaging: ideally, you should use the original packaging for all electronics; if that is not possible, use a sturdy and durable cardboard box of a similar size and fill any remaining space with tissue paper, bubble wrap, or packing peanuts
store properly: keep your TV upright, store it on a shelf or on top of something sturdy, and don't put anything on top of it
Don't worry – if you avoid mistakes when storing a flat screen TV and follow best practices, you can keep your appliance safe. Despite how fragile it is, a flat screen TV can be stored safely if you know what you're doing.
Let our team put together a comprehensive moving plan for you. Complete our simple free quote form or contact us at 1-888-300-7222.