Coping with moving after divorce – useful tips
Moving and divorce are events that often go hand in hand, and they are difficult to cope with even when you separate them. Dealing with both of those things at the same time can be overwhelming. Coping with moving after divorce can be challenging but with the help of your friends, family, professional movers and packers Seattle, the right therapist – it's easier to process and handle. There are different techniques that can help you overcome this stressful period in your life. New aspects of life will open to you and you will learn new things about yourself in the process. And at the end of this journey, you will feel better, more confident, and ready to embrace a new chapter in your life!
To start coping with moving after divorce you need to learn to let it go
The first and the most important thing that you need to do is to let go. If you want to move forward, and be happy you need to let go of your anger and sadness. That also means that you need to let go of your now ex-spouse, and accept the fact that they are no longer in your life. This also means letting go of your dreams, plans, and the idea that you will grow old together in your family home. Coping with moving after divorce means that you will also have to let go of your family home.
Research says that it actually helps you to move homes and remove all of the things around you that cause you to feel sad or anxious. You can go around your home, gather belongings that are part of the past, and store them. You can look for Seattle storage and rent a storage unit. And once you are ready to face all of those memories, you can go and declutter your storage unit.
Dividing your belongings will be challenging
Dividing all of your belongings will be though. You can look for moving boxes Seattle and start that process as soon as possible. Prolonging it will only make everything much more stressful and harder. The sooner you start the better. In case you are both leaving your family home, do your best to split your belongings as fairly as possible. Keep in mind that this can be a painful process. So, if you feel that you are not capable of doing this on your own, you can look for legal assistance.
Coping with moving after divorce means giving yourself enough time to grieve
Handling moving after a divorce will be challenging, and you need to give yourself enough time to grieve everything. You will grieve the divorce, the loss of your dreams, your broken heart. But at the same time, you will be grieving losing your home, habits, belongings, etc. You will go through all the stages: denial, anger, bargain, sadness, and in the end – acceptance. It will take time, and it will be very hard to make the first move of looking for a reliable moving company Washington to help you move. But, it is much wiser to let professionals handle your relocation and to give yourself enough time and space to grieve your loss.
If you have kids, they will need help to cope with moving and divorce
One of the best things that you can do for your kids is to talk with them. Be open, and talk with them about what is happening. And the most important thing to do is to try your best to avoid showing any bad feelings toward your ex-partner. Try to stay civilized, communicative, and open to discussion. Your kids will see that even after your divorce there won't be any bad feelings. They will be spending their time between two homes, so do everything you can to make it easier for them. You can let them decorate their new bedroom, organize it how they like. Create new memories in your new home – watch movies, play games. Make the transition as easy as possible.
It will take time so you need to be patient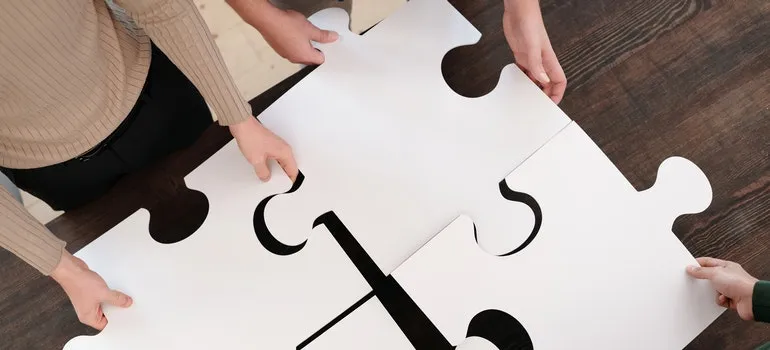 Same as you are grieving, your kids are too. They will feel insecure, sad, or scared of the future. And those are all normal feelings for them. Coping with moving after divorce will take time for all f you – your kids, you, and your ex. It will take time to adjust to a new life rhythm, changes. So, you will need to gather your friends and family to help you through this period. It will be much easier to handle divorce and your kids with someone by your side. Of course, you can always talk to a therapist that will give you some tips on how to handle moving after divorce and the divorce itself.
Give them and yourself time to adjust
It can be challenging to stay positive through all of this. Moving, divorce, changing your home, your kids changing their school, changing your habits – it will be really stressful. But it is something that you can handle. Step by step, you and your kids will adjust to a new home, new things and before you know it, you will start feeling like your old self. Once you feel confident and ready for a new beginning take all of the belongings from the storage units Lynnwood WA, and declutter them. Keep the things that bring you good memories, but feel free to throw away to donate things that you don't like or need anymore.
The final step of coping with moving after divorce is accepting the change
One of the final steps of every divorce is accepting that things are different. Once you start accepting the change, reinventing yourself you are at the final stages of coping with moving after divorce. Accept the change, look forward to the future and start working on yourself. Explore all the things you always wanted, maybe even go on a vacation after your relocation. Separating from your partner, especially if you were married for a long time, means learning about yourself. You probably felt like one person, and now the whole world is only yours. Explore it, and have fun. Learn more about your new, home, neighborhood, make new friends – the choice is yours!
Let our team put together a comprehensive moving plan for you. Complete our simple free quote form or contact us at 1-888-300-7222.