Guide for moving from Redmond to Bellingham
A solid organization and learning about the future neighborhood are key components of a smooth and stress-free move. In addition, a friendly and professional moving team is necessary to have at your side. That way, moving from Redmond to Bellingham can become a fun and less tedious endeavor. We at Hansen Bros. Moving & Storage are ready to execute each moving task for you and deliver a blissful moving experience. Feel free to contact us for more information about our top-quality services. Our movers stand at your disposal from start to finish.
Find a trustworthy moving team for your Redmond to Bellingham move
The first step to a hassle-free relocation is finding reliable movers Redmond WA has on offer. Although there is a multitude of great moving offers, make sure not to jump into any sudden decision. Rather take time to conduct research before hiring any company. Your best interest always comes first, which is why a company you hire must be respectable to its customers. Furthermore, not every company is going to be available at the time you prefer to move. That's why it's best to start searching at least four to five weeks before.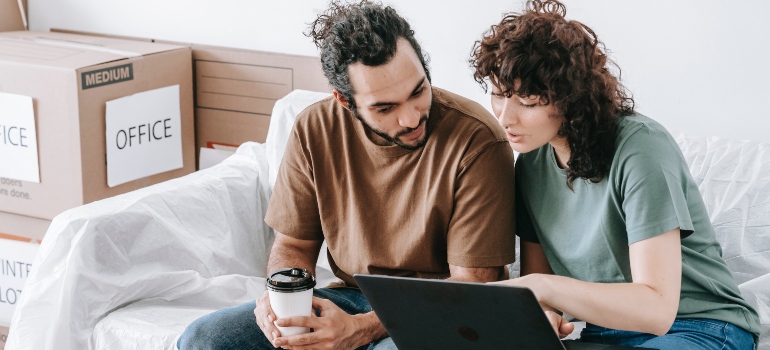 In order to know which moving company works for you, determine a few crucial points:
Moving services – Decide the moving services you need for your move.
Relocation budget – Estimate the approximate amount of upcoming moving expenses.
Moving day – Pick the date of your move and look up the companies that are available at that time.
Your moving rights – It's of the utmost importance to learn your rights before negotiating any deal.
Use multiple sources of information to find your ideal moving partner
A friend's recommendation always means a lot when it comes to searching for reliable movers. On the other hand, it's better to consult other sources of information. Nowadays, everything you need to know about any particular moving company is just a few clicks away. That being said, make sure to consult other sources such as social media groups, and review websites besides the company's official website.
After you check the official website, go to Yelp and similar public review platforms for more customer testimonials. They should give you a better insight into the company's expertise and the quality of their services. However, it's important to confirm if the company is fully licensed. Furthermore, it's important that the movers offer a free on-site moving estimate, without hidden fees.
Don't forget to rent a decent storage unit
You can choose from many quality storage units Lynnwood companies include in their offer. Opt for indoor climate-controlled units, where a majority of items are safe and sound for the duration of a move. That's why such units are much-needed when it comes to long-distance relocations.
Take time to make a schedule before packing for Redmond to Bellingham move
Keep in mind that moving is a serious task which is why proper time management is extremely important. If you aren't able to take a break from work in order to move and have additional family duties, then scheduling is a must. Make sure to be realistic about the amount of time you can dedicate to moving preparations each day. That way you'll avoid moving burnout.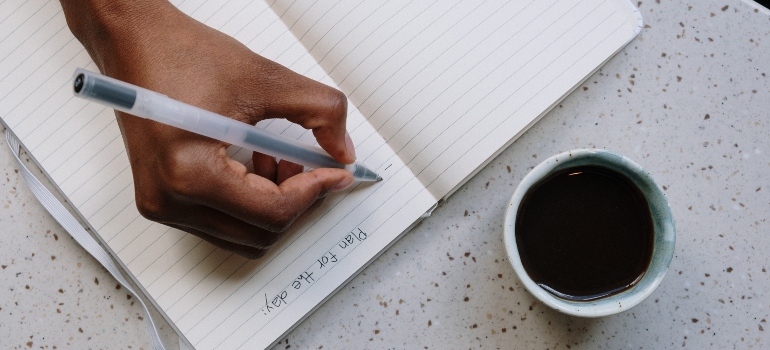 Make a cup of coffee or tea, grab paper and pen, and take time to create a moving schedule. By doing so, you will avoid the common organizational mistakes that many people tend to make:
Squeezing all moving tasks into just a couple of days.
Forgetting to additionally secure each item and cushion the boxes.
Not having enough rest.
The first thing to do is to declutter your home and get a sufficient number of moving boxes
Before you make a moving shopping list, dedicate an entire day to decluttering. You will notice how many excess items you actually don't need. So decide what is for sale, donation, recycling, or trash. Rest assured you'll feel at ease after you get rid of a bunch of items you don't want or need. It will take you less time to pack everything for a move. In addition, you might earn extra money and invest it into top-quality moving supplies.
Once you make a packing checklist, you will know how many boxes or containers you need for a move. Besides strong cardboard boxes, opt for waterproof bins as well. Plastic containers might also come in handy. Also, remember to use strong packing tape to secure each box, bin, or container.
The best way to pack is room by room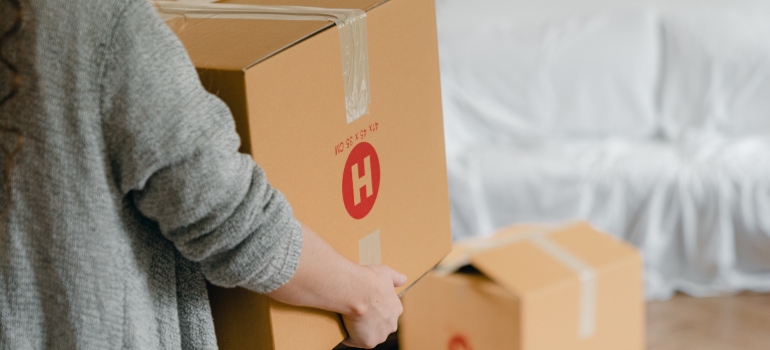 Start with the kitchen and bathroom first. After that, proceed with the bedroom, living room, game room, etc. Don't worry about furniture, appliances, and other heavier items. Your chosen movers will take care of each of them without problems.
There are strong reasons why people move from Redmond to Bellingham
Apart from cheaper housing, the citizens of Bellingham enjoy many benefits. Moving to Bellingham means a more comfortable and at the same time affordable life. Job opportunities pop up every now and then, which is why Bellingham is popular among job-seekers. In addition, remote workers and business owners prefer to make the most of low rent prices and a tax situation there. Plus, the community is friendly and welcoming to new people. Once you get to know them better, you'll discover how much they enjoy outdoor activities. There are many outdoor options in Bellingham you might enjoy. If you didn't have any outdoor experience yet, then moving to Bellingham will make you fall in love with camping, hiking, etc.
In case you don't have time for a short visit, simply go online. There are probably places you would gladly visit. This is a great way to reduce stress and feel less overwhelmed about moving from Redmond to Bellingham. The upcoming moving period will seem more like a memorable experience and a chance for a new beginning.
Let our team put together a comprehensive moving plan for you. Complete our simple free quote form or contact us at 1-888-300-7222.