Step-by-step guide for moving your fridge
Did you know that the kitchen is one of the most complicated rooms for packing and moving? "Why" you may ask? Well, it's simple – this room has many appliances that can be challenging to move. Take for example a fridge. It's heavy, bulky, and needs to be prepared for the move ahead of time in order to avoid problems on the day of the relocation. Its relocation shouldn't be taken lightly but it is possible to make it easier and avoid problems. This step-by-step guide is here to tell you everything you need to know about moving your fridge from one place to another.
So, if you want to learn more about this matter, grab a cup of coffee, make yourself comfy, and read on. With the steps we provided, moving a refrigerator will be a piece of cake.
What are the challenges of moving a fridge from one place to another?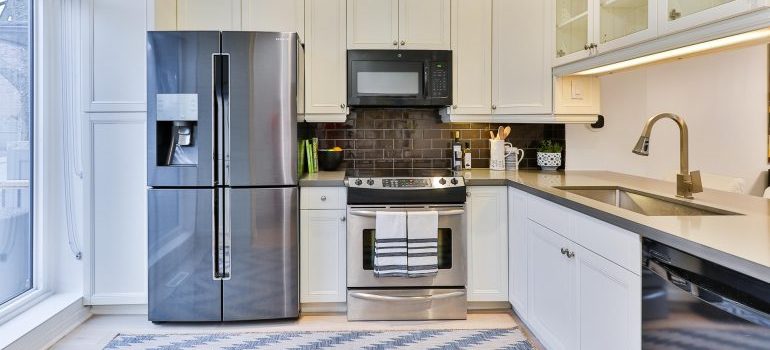 Moving large kitchen appliances, such as refrigerators, is a process that shouldn't be rushed. Understanding how to relocate this large piece of equipment is a must, especially if you have to move over long distances. But why does a fridge require special attention? What can go wrong during its relocation?
Refrigerators are big, bulky, and heavy. Not to mention they cost a lot so you need to do everything you can in order to relocate them safely. In addition to this, refrigerators need to be prepared for the move. If you skip this step, you might end up with wet and moldy moving boxes. If you don't defrost your fridge ahead of time, it might ruin all of your belongings while they are being transported to your new home. 
Moving something as heavy as a fridge requires help from professional movers Bothell WA. Although it is possible to relocate it on your own, professionals know how to move it faster and safer. So, if you are still wondering whether you should hire a moving company for your upcoming relocation or not, we have to say that our vote goes to the reliable moving company. After all, movers have been in charge of many relocations and have the skills and the tools for moving your fridge safely.
Things you will need to do before moving your fridge
Whether you opt to hire Washington movers or move on your own, there are some things you will need to take care of before the day of your relocation. These are some of the most important steps for transporting a fridge safely from one place to another, so make sure to follow all of them if you want to avoid problems.
Empty and clean the fridge before the moving day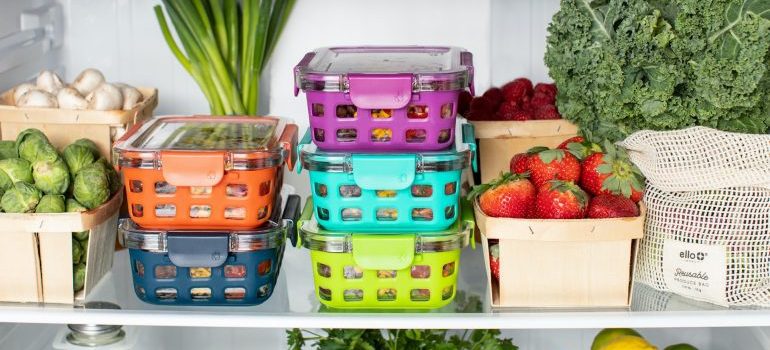 The first thing you will want to do before moving your fridge is to clean it thoroughly. You will need to empty all the contents before the move and that requires some planning. Instead of constantly buying and prepping food, plan your meals just so you can eat everything that's stored in your fridge. This way, you won't have to throw away any perishables. Your goal should be to empty the fridge at least 72 hours before the move.
Now that your fridge is empty, it's time to clean it. Unplug it and clean all surfaces. If you want to avoid using harsh chemicals, you can clean the old-fashioned way with baking soda, water, lemon juice, or vinegar. Keep in mind that, because you've unplugged your fridge, the ice from the freezer will start to melt. Make sure to place a towel underneath your fridge to collect excess water from the melted ice.
Gather the packing supplies
Make sure you have all packing supplies before the moving day. You're going to need moving boxes Seattle, moving blankets, plastic wrapping, and some strong packing tape. It's a good idea to take the refrigerator's dimensions before you head to the store to buy packing materials. With measurements, you will know how many supplies you need to get, and you will also see whether you will be able to squeeze the fridge through all hallways and door frames.
Unplug and defrost the fridge
If you want to avoid property damage while moving, you will have to defrost your fridge at least 48 hours before the move. We've already mentioned that you need to unplug the fridge before you clean it. You can clean and defrost it at the same time. But, if your fridge is already clean, you will still have to defrost it in order to move all your belongings safely. Disconnect your fridge according to the user manual (in case you still have it) and be prepared for collecting excess water. Keep in mind that your fridge needs to be completely dry before you start to pack it.
How to properly pack your fridge for the big move?
If your fridge is now empty, clean, and dry, it's time to wrap it and move to your new place. Here are a few tips on how to handle moving heavy items and how to properly pack them. Here's how to pack a fridge the right way.
Roll up and tape the cord to the back of the refrigerator. 
Secure the fridge's doors with strong packing tape.
Wrap your fridge in plastic wrapping to keep everything in place. 
Wrap your refrigerator in moving blankets to keep it safe from scratches. 
Load the refrigerator onto the moving dolly, but don't do this on your own. 
Tilt the fridge back (no more than 45 degrees) and transport it slowly to the truck. 
Keep in mind that you don't have to deal with these steps on your own – you can always hire movers to help with moving your fridge. They can pack it and move it to the desired location while you deal with other moving tasks.
Let our team put together a comprehensive moving plan for you. Complete our simple free quote form or contact us at 1-888-300-7222.