Guide to systematically relocating your warehouse
Whether you've outgrown your warehouse, or you consider moving it to a more convenient location, you'll need to come up with a good plan of action. This is a significant step for any business and can affect your overall operations. If you intend to minimize the downtime and the effect on profitability, systematically relocating your warehouse will take a good amount of organization. Besides, it's best to consider taking assistance from pros who will help you optimize the success of this operation. Our specialists at Hansen Bros. Moving & Storage will help you cut the downtime, and they will provide you with flexible solutions for the best outcome of your project. For your benefit, we have put a simple guide to help you move your warehouse in an orderly manner, and pull off your project with ease. So, let's dive into it.
Essential steps for systematically relocating your warehouse
No matter the size of your business, the transfer of a warehouse is a project that can have a significant impact on your operations, and therefore profitability. That's why it's crucial to have a clear and easy-to-follow plan before you set up on the mission. If you're relocating your entire business, naturally you'd like to enlist the best office movers Seattle has. To ensure the easy flow of your project, book your services with time to spare.
Surely, moving your warehouse methodically is necessary to prevent things from spinning out of control. Therefore, you'll need to know what exactly should you do, and follow the steps diligently. Besides, make sure you establish good coordination among your staff and departments, so your business wouldn't have to suffer unnecessary downtime. In continuation, here is how to transfer your warehouse in a systematic manner for your utmost benefit.
Downtime
Inventory
Costs
Communication and coordination
Consider what the potential downtime would be and how can you cut it down
We all know that time is money, and this is especially true when it comes to your business operations. Moving your warehouse means that it will be inoperative for a while. Therefore, you need to do the math and figure how long would that be, based on the size of your inventory, and how much time you can actually afford to invest in this moving project. Your best bet to secure consistency while moving your warehouse is to partner with shipping companies Seattle that have the resources and experience to offer you solid support.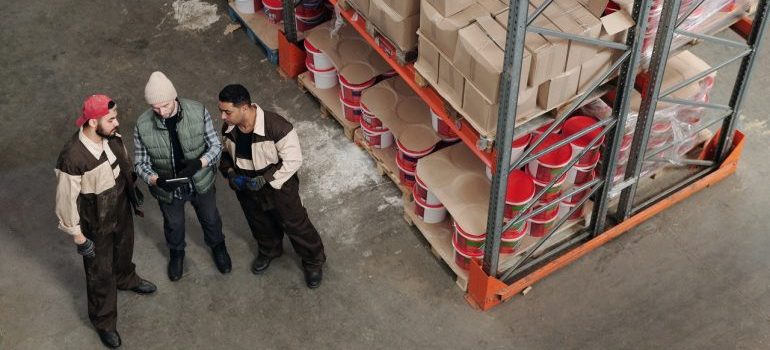 So, the first step of a foolproof plan for moving your warehouse systematically is to figure out the time factor. Once you know this, your duties and priorities will also crystalize. While the upsides of downtime may sound unlikely, there surely are some. But unfortunately, none of those benefit the profitability of your business. Thus, plan meticulously, and secure the ideal outcome of your warehouse transfer.
Incorporate a good system of inventory management
However big or small your warehouse inventory might be, moving it to a new location calls for your due diligence. Hence, work out an effective plan in terms of having your stock in check. Moving your warehouse inventory means that some items may get damaged or lost. Therefore, Newcastle storage experts advise you to count the stocks and prepare a good inventory list.
When your warehouse move is completed, you'll need to do thorough checks and determine the condition of your warehouse inventory. It's important to mention that while methodically moving your warehouse is the best way to go about it, you should expect some minimal losses of goods due to transportation. This is common, but as long as you are prepared and know what to expect, you'll handle the entire project with no issues at all.
Systematically relocating your warehouse with a precise budget plan
The relocation of your warehouse will of course come at a certain cost. So, moving your storehouse systematically means you'll have to have a solid budget plan. There are many points to consider, but the most important aspects are the following:
Interruptions in the supply chain
The pro assistance for systematically relocating your warehouse
Potential shipping delays
Costs for employee relocations
Therefore, the cost and overall complexity of your warehouse transfer will depend on various factors. So, consider the size of your inventory, your staff, and everything else that involves costs. Moving your warehouse systematically certainly isn't possible without a good budget plan.
Coordination is key to effectively relocating your storehouse
Moving a warehouse is a project that entails many parts. It's not just the logistics part, but it's also about effectively coordinating all segments of your business. And this is instrumental for the organized transfer of your storehouse that will determine the success of your project. To ensure that everything goes at a flowing pace, here is a few points worth consideration:
Communicate with your staff. Keep your employees informed about the upcoming warehouse moving project. This way they will know what to expect and will interpret the events in your company the right way. They will be prepared for the changes as well, so you'll manage to keep the loss of productivity somewhat in check.
Notify your customers. The move may cause interruptions in your supply chain. Therefore, it's important to communicate with your customers and inform them about possible delays on orders.
Give clear instructions to your movers. Make sure you let your movers know about how are they to conduct the move. The more details you share, the better and faster the outcome will be.
In conclusion, this is a brief but effective guide on systematically relocating your warehouse. So, take notes, and you are sure to pull off your project with ease.
Let our team put together a comprehensive moving plan for you. Complete our simple free quote form or contact us at 1-888-300-7222.