How to clean out your apartment before moving
If you like cleaning, you must be a special kind. But, with the upcoming moving day, you'll have to find a way to tick off that burdening task off your list. Now that you have saved the date with your dependable Seattle movers, you'll have to figure out an effective strategy and clean out your apartment before moving. We all could agree that cleaning is many things but fun. Anyway, worry not, as the specialists at Hansen Bros. Moving & Storage have you covered. Below, we share the most effective tips to organize your place and have it squeaky clean before you know it. So, take notes, and thank us later.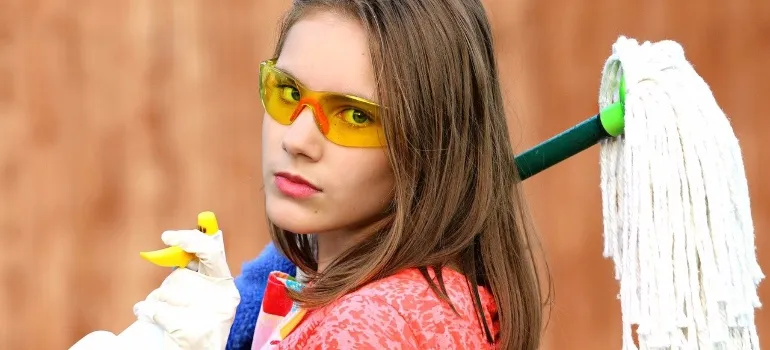 Why do you have to clean out your apartment before moving?
We all know the importance of having our living space neat and tidy. With your moving day around the corner, the task to tidy up your apartment is especially important. So, you have booked your cross-country movers Seattle and now you need to start preparing for your upcoming move with serious focus.
There are multiple tasks that you'll have to handle. And, even if you decide to hire professional cleaning help, you still have to do your due diligence in the cleaning department. Thus have your moving checklist ready, and be sure to organize your timeline effectively, so you'll have enough time to ensure that you have your apartment spotless before moving out.
If you live in a rental, handing over the apartment tidy and clean will secure your deposit back. Besides, you'd like to avoid shocking your landlord with all the mess that you'd leave behind. Moving elsewhere doesn't mean you should skip the good practices, as you intend to never look back.
Did you know that if you are to secure a place in NYC, for instance, you'll be asked to provide a reference letter from your previous landlord? Case in point, do clean your space before relocating. Moreover, even if you own the place, you'd like it to be sparkling clean. And if you're renting it out after moving, well then, your tenants will expect to find it spotless. Thus, there is no way around sorting off your condo before moving. And, whatever your moving situation might be, good conduct will always work in your favor.
How to prepare for tidying up your flat before moving?
Planning your steps in advance will help you keep on track and get everything done in a timely manner. And with a relocation to-do list as long as your arm, you'd like to organize everything with time to spare. First of all, book your services with reputable movers Issaquah WA. Depending on your budget, you can talk to them and ask if they can recommend you good apartment cleaning services. 
The task to tidy up your flat before moving out will be among the last boxes to tick off your moving checklist. However, if you know what's coming first, you'll organize yourself and will have plenty of time to do it, without time running against you. So, consider that packing your entire household precedes the part where you clean out your apartment before moving out.
Guidelines on how to have your apartment spotless when you're changing address
Even if you enlist pros to do the deep cleaning of your flat before you move out, you'll have to invest your efforts first. For one thing, purge through your belongings and declutter your abode. Consider booking your storage Seattle services, as these you may find useful not only during the move but beforehand, to stay neatly organized during the decluttering of your flat.
Sift through your possessions, and discard everything you don't need. With this, you'll kickstart the cleaning of your apartment before vacating it. Thus, make a point to follow a good system, and keep only what you intend to move with you. This, of course, you should pack first, and then get to the point of scrubbing off everything that's left, and leaving your apartment spottles when you are moving. Withal, here's a quick guide on how to clean your flat before moving, that will surely put you on the right track:
Start from the top
Proceed with the kitchen
Clean your apartment before moving and leave the bathroom sparking
Clean your apartment before moving and start from the ceiling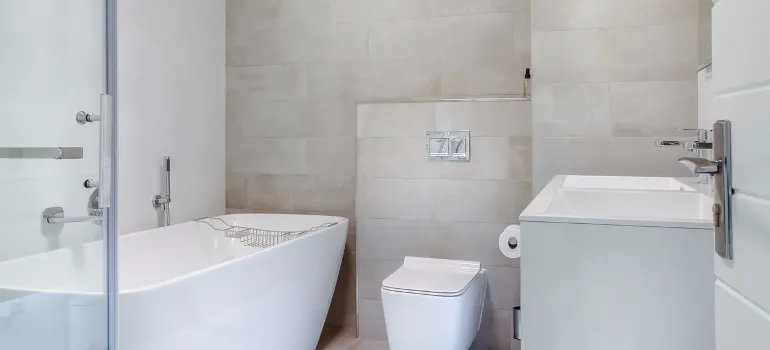 Save yourself from having to vacuum or wipe more than once, and get things right from the start. To tidy up your flat before moving out, start from the top and go down. So, clean cobwebs from the ceiling, wash the windows, and dust off the blinds. This will allow the dust and dirt to fall to the ground. From here, vacuum and mop the floors. Your living room and bedroom should be the easiest areas to tidy up in your apartment before relocation. If your possessions are neatly packed and off the way so far, you're done with these areas. The next steps of cleaning your flat before moving out, however, could be more of a time investment.
Deep-clean the kitchen when preparing for moving out
Even if you're the type that doesn't like cooking, the kitchen is the place where grease, stains, and food remains accumulate the most. So, clean out this area of your flat and start with cabinets and entries, as this is the favorite hotspot of crumbs. Provided that you have already tossed expired food, and removed all items, what's left is wiping these furnishings with a damp cloth. Do the same with countertops and use sanitizing cleaner to have them shiny and clean.
The fridge and dishwasher should come next, and save the most difficult part for last. The oven. Of course, how difficult it is depends on how much you've used it, and how often you've cleaned it. Here's an effective way to remove even the most stubborn grease. A mixture of water and baking soda will dissolve the greasy layers if you leave it for a while. To have your oven squeaky clean, wipe the mixture with vinegar. Then, move to the next step of having your apartment cleaned out before the move.
Sanitize the bathroom and impress anyone that comes into the apartment after you
At this point, you would have everything removed from your bathroom, but the essentials you need for the few days before you move out. And so, scrub the shower area and sanitize the vanity with appropriate cleaners. Disinfect the toilet bowl polish the mirror, and you're done with the most challenging part of tidying up your flat before moving out. Surely, you may have other areas in your apartment that we haven't touched upon, like a balcony. But if you stick to the guidelines above and go room-by-room, you'll handle the task like a pro.
In summary, these effective tips will help you work out a more detailed plan and clean out your apartment before moving with ease. Be sure to take pro assistance if that's possible, and make it easier on yourself.
Let our team put together a comprehensive moving plan for you. Complete our simple free quote form or contact us at 1-888-300-7222.