Moving for the first time – how to cope
Are you getting ready to relocate for the first time? If this is the case, you'll probably want to learn about it as much as you can before the time for relocation arrives. Yes, moving for the first time can be a bit challenging, but our guide is here to help you cope with it and overcome any challenges you stumble upon. So, if you want to learn how to organize a stress-free relocation and move with ease, make sure to keep reading this article from Hansen Bros. Moving & Storage.
What makes moving hard?
If you've been reading our blog regularly, then you already know that most people find this process hard. Many get stressed and anxious when they start to organize the move. This ruins the entire relocation for them. But, why is this? What exactly makes moving hard?
Although every person is different and unique, the only thought about having to relocate everything you own can stress everyone out. This entire process needs to be organized seamlessly in order for everything to go according to plan and with no problems. This is especially hard for someone who is moving for the first time.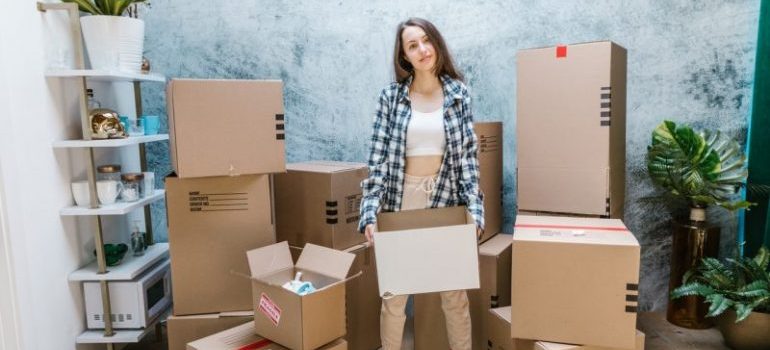 But if you choose a good and trustworthy moving company Washington, you will have nothing to worry about. Even if you choose to move on your own, there is still a way to organize a seamless move. Read carefully and you will learn all about them.
How to cope with moving for the first time?
No matter how old you are, you shouldn't be scared or get anxious just because you have to move for the first time. Even if you're moving abroad, you can move with ease. But, if you just can't cope with the change that's about to happen, here are a couple of things you should do:
Learn about the relocation process
One of the first things you will want to do before starting to plan your move is to learn a bit about this process. The more you know about it, the simpler it would be for you to organize it. That's why you should talk to someone who has recently moved or, even better, talk to the movers you want to hire. Professionals can tell you all about the relocation challenges and how you can overcome them. In addition to this, you can learn about Newcastle storage and moving services and how you can get them.
Talk to your loved ones
Whenever we are feeling sad, have problems, or simply need a piece of advice, our loved ones are here to help. That's why you shouldn't skip talking with them about your upcoming relocation. Trust us, doing this will help you greatly and you will manage to cope with the change and prepare for new opportunities.
It would be a good idea to organize a small gathering where all of you can meet and talk in person. Use this chance to say goodbye to them if you're moving over long distances. And remember, you shouldn't be sad. Moving to another place will bring you many new opportunities. Embrace the change and you will start to think about the move positively.
Plan every step of your relocation
No matter how hard one relocation might be, with a well-made plan, it will become much easier. The goal is to plan every step of the move. This task will be simpler if you're not the only one who's in charge of it. For example, if you hire professionals, they can take care of a big portion of this task for you.
Here are some of the things that require proper planning:
Moving budget – Plan your budget and make sure to stick to it. That's how you'll avoid spending more than planned.
Finding help – Professionals can make any relocation simpler. If you have some delicate items, such as a piano, you should look for piano movers Seattle who can move it hassle-free.
Finding a new home – You should start looking for a new place as soon as you set the moving date. Make sure to start your search only after you identify your needs.
Decluttering – There's really no point in moving every item you own. Get rid of the items you're not using anymore and you'll also manage to save money on your move.
Paperwork – We won't lie to you, this is one of the most boring tasks of every move. Start to deal with it ahead of time and you'll keep problems and stress away.
Get your finances in order
Whether you are moving to the suburbs or to another country, you will want to set your finances in order before this endeavor. Relocations can become really pricey if you're not being careful. So, in order to avoid unplanned expenses, set your budget and look for a moving company that has affordable prices. Ask for a moving estimate and see whether your wallet can handle these expenses.
Give yourself some time
Whether you're moving for the first time or not, it's important to give yourself some time. You need some time to settle in your new neighborhood and embrace the change. This is completely fine. You don't have to unpack all of your boxes all at once and you don't have to start meeting new people immediately. There are no rights and wrongs.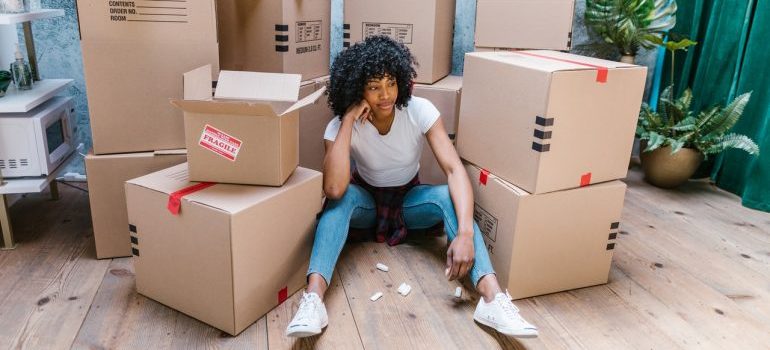 Moving for the first time? Hire a reliable moving company and rest at ease
If you want to avoid chaotic relocations, put professionals in charge instead of trying to organize everything on your own. Moving companies are here to make your move as simple as possible. Find a company that has all the services you need, make sure they are reliable, and hire them. Let them organize the move for you while you plan how to find a rental apartment in Seattle or deal with moving paperwork. That's how you'll manage to move with no problems along the way!
Let our team put together a comprehensive moving plan for you. Complete our simple free quote form or contact us at 1-888-300-7222.